As Davey Ray leaves New Zealand and heads across the way to Australia, he anticipates another exciting round of racing Down Under with the Buckley/Hawk team.

So far, Ray's trip was highlighted by his impressive win in round three of the International Midget World Series at Powerbuilt Speedway in Christchurch, New Zealand. The team flexed it's muscles as they led from start to finish in the 30-lap event taking home the silver cup trophy.

Ray not only pleased fans with his on-track performance, but also had fans on their feet before he even strapped into his racecar. He thrilled the crowd as he skydived from 12,000 feet for the series' opening ceremonies at Western Springs Speedway!
"We had fun in New Zealand! It was great to get a win for my car owners, Bill Buckley and Steve Smith," said Ray. "I am getting the best equipment from both of them. Now, we have to focus on Australia."
Ray will pilot the same red, white and blue #2 entry he ran in New Zealand for the Australia portion of the trip. Ray is getting the best of both worlds with the teams' combination of two great forces from around the globe.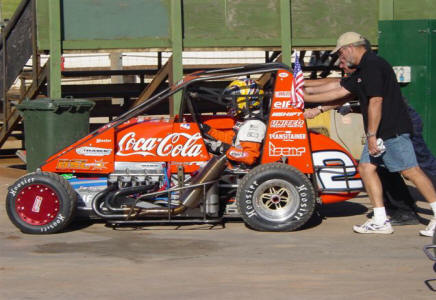 Davey Ray #2 at Springs Speedway, NZ by Down Unda Thunda
Respected car owner, Bill Buckley of New Zealand is providing the team with the ultimate Aggressor Chassis for the 11-race endeavor, while Steve Smith of Australia, brought the Hawk Engine Development power to the team with the help of Joe Kaal.
The first race in Australia will be Saturday night at Parramatta City Raceway, where Ray will be joined by four other American drivers. The event will consist of qualifying, two heat races, and a 30-lap feature packed with the best drivers from the United States, New Zealand, and Australia. The Speedcar Super Series has already seen three different drivers win in the first three rounds on competition.
Ray is looking forward to bringing the Buckley/Hawk entry to victory lane again throughout the next couple months. They will race four times at Parramatta City Raceway, as well as tracks in Melbourne, Mildura, and the Speedcar Super Series Finals at Speedway City Adelaide on March 11th.
"I'm excited about the tracks coming up in Australia. I think we have a great chance to get another win for the team," said Ray. "I want to thank everyone over here for all their help. We're having a great time!"
For updates and more information, please visit:
www.daveyray.com OR www.SpeedcarSuperSeries.com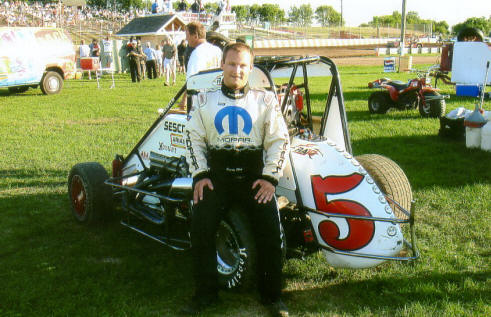 Davey Ray at Angell Park Speedway, USA - by Bill Lawler